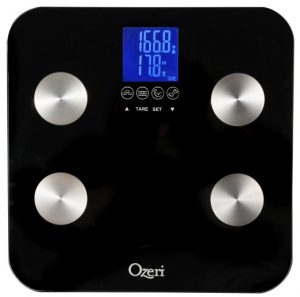 A good bathroom scale is something that will help one stay on track with being healthy. Staying healthy could mean various things to different people. But regardless of whether you would like to lose weight, maintain your weight or build more muscles, the best way to do this is to monitor your progress and make daily adjustments. After all, whatever you measure will help to guide you in the correct direction.
If you have finally made the right decision to start getting physically fit, then that is great, a good bathroom scale can accurately provide you with your weight so that you can track your progress. Although the old fashioned analog scales are still available, you now have more options and styles to choose from.
Types of Bathroom Scales
There are two types of analog scales, the spring based and weight based models, the one with the sliding weight is like the ones usually seen in a doctor's office, whereas the spring based scales are frequently used in homes and have the dial to read the results from.
The digital scale makes weighing yourself simple, much like with watches you can just read the results, you will find several styles on the market to choose from so be sure to get one with functions you need. Some compare your weight from one reading to the next while some can store information for use at a later time and sometimes even for more than one person.
Things To Look For In A Good Bathroom Scale
1. Power of the Bathroom Scale
When it comes to digital scales, then it is best to choose a model that is either powered by solar energy or one that has lithium batteries, these will last a lot longer than the models that use regular batteries, and it can become annoying and costly to constantly have to keep changing the batteries of a scale just to see how much you weigh.
2. Measure Levels of Fat
Other features that digital scales can come with include measuring levels of fat, comparing the fat to muscle ratios or determining hydration levels, some scales even come with all of those features. Those who want to build up muscles find these scales to be quite useful in their endeavors, however, the information provided can also be used by those losing weight. People losing weight will then be able to adjust their plans if they reach a plateau so that they can once again shed the pounds.
3. Consistency
The weight based analog scales is widely considered to be the most accurate of all the types of scales, many doubt the accuracy of digital scale readings. However, if you weigh yourself three times in a row and the weight remains the same for each reading, then you are getting consistent results. Consistency is what is important when it comes to tracking weight loss. If accuracy is a major concern for you, then it is best to get a scale, either analog or digital, that can be adjusted and calibrated.
A scale that is suitable for your fitness needs should be kept in mind when going to purchase a scale, also, keep in mind that the average scale goes up to 300 pounds.
The recommended time to weigh yourself is in the morning when you have used the bathroom to get the most accurate reading.
To check out some of the top-selling smart weighing scales, go to Amazon.com where you can browse through the range and look at the customer reviews, which is a must before you decide to buy, a good one you might want to consider is the Ozeri-Touch-440-lbs-Total-Body-Bath Scale which as well as having some great features, it is accurate and looks very stylish.