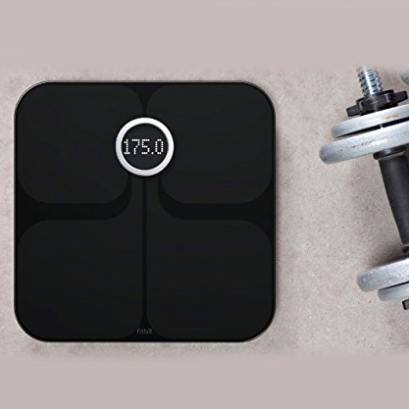 If you are looking for a smart bathroom scale that can help you stay on track, then look no further than Fitbit Aria Wi-Fi Smart Scale.
===> Are you in a hurry? Click Here to see Amazon's BEST PRICE for the *Fitbit Aria Wi-Fi Smart Body Scale*
This device uses advanced technology to track your body weight, lean mass, body mass index (BMI) & body fat percentage, enabling you to see the numbers you need to take control of your fitness and get lasting results.
In this page, we walk you through everything you want to know about this clean and modern smart scale.
Key Features of Fitbit Aria Wi-Fi Smart Scale: Design & Functionality
1. Excellent Design
Fitbit Aria Wi-Fi Smart Scale features a sleek, polished glass surface that makes it fit for every home. It's flat and square just like most commercial scales, weighs 4.3 pounds and its main sensing platform measures 12.3" x 12.3" x 1.3."
The underside is made of a pattern that features 16 bubblelike protrusions with rubber risers that provides a surer grip. On the bottom of the smart scale, there's a battery compartment that holds 4 AA batteries (included).
At the top center, you'll find a backlit LCD that displays a variety of data, (battery status , Wi-Fi signal, weight, etc).
2. Supports Multiple Users
Once you step on Fitbit Aria Wi-Fi Smart Scale, it recognizes who you are, displays your data and then sends your weight stats to your Fitbit account — keeping them private and giving you control over what data you share.
The high-quality scale recognizes up to 8 individual users, so you are free to invite your family members.
The Fitbit scale measurement range: 20-350lbs.
3. Displays Charts & Graphs of Your Trends
Short term fluctuations in body weight don't provide the realistic status of your health & fitness. It's actually the long-term trend that matters.
Aria syncs with your Fitbit dashboard to display your weight stats as well as your progress trends in easy-to-read charts & graphs. You'll, therefore, be able to see the bigger picture of your health & fitness and stay on track.
4. Wireless Syncing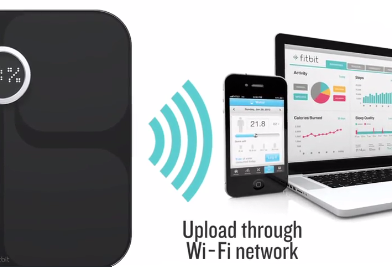 Aria uses your home Wi-Fi network to sync automatically and wirelessly to your Fitbit dashboard. So you'll be able to access your progress at any time of the day/night without having to record or remember another number.
Network requirements WEP/WPA/WPA2 personal security, Wireless 802.11b,Automatic (DHCP) IP setup- static IP configuration not supported.
Other Features
• It works with Fitbit trackers and Fitbit app, enabling you to set your goals and use "Calorie coaching" to achieve them.
• Aria operates in a humid bathroom environment, and some condensation due to hot showers won't damage it. Despite the fact that the scale is water resistant, Fitbit says that it shouldn't be submerged.
Pros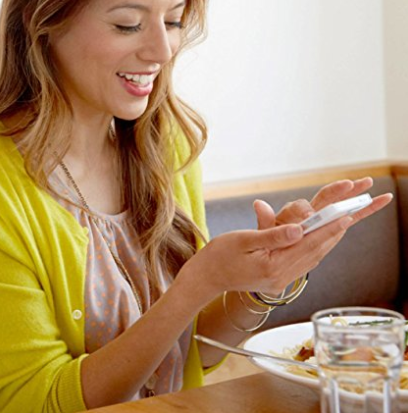 • The lean and body fat percentages tracked by Aria lets you know if you are burning fat and building muscles
• No power cord necessary since it uses the included 4-standard 1.5V size AA batteries.
• There are two color options to choose from, black and white.
• When you achieve your target, it congratulates you with some nifty badges that can be shared on Facebook, Twitter or with friends using Fitbit accounts.
• Aria integrates well with Fitbit's cloud-based fitness tools.
Cons
• It supports a limited number of third-party fitness apps.
Final Verdict
Fitbit Aria Wi-Fi Smart Scale can help you set your fitness goals, track your progress on a daily basis and start living a healthy lifestyle.
The smart scale is easy to install, and there are multiple devices that you can use to set it up for the first time, including Windows XP & later, Mac OS X 10.5 & up, iPhone 4S & later, iPad 3gen & later or the leading Windows and Android devices. A few customers have complained that Aria's price is a little bit high.
Where to Buy Fitbit Aria Wi-Fi Smart Scale – Best Price Online
To get the Fitbit smart scale online, we recommend buying from Amazon.com for the best price, and fast, FREE shipping.