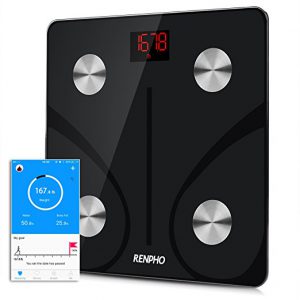 The wifi body scales have received positive reception since their introduction in the fitness industry, these scales offer an array of benefits to those who use them with research indicating that weighing on a scale each day is a healthy way of loosing weight. Wifi body scales work just like the conventional ones only that they sync with the internet or a smartphone app through a cellular network or Wi-Fi to show your weight, providing you with statistical data. This data can be presented in charts and graphs that track how you're doing with your fitness program.
Ways on how a wifi scale can help with weight loss
Innovation, functionality, automated, wireless, and accuracy- these are just a few of the words you can describe to wifi body scale. But this digital body scale has more weighted advantages that a lot of fitness enthusiasts care about, and these are:
1. Goal motivation features that allow the user to see the progress through graphs: Getting motivated to keep healthy is an important aspect in losing weight so when you use wifi body scale, it can show you the progress of your fitness program by generating graphs.
2. Mobility and Wifi connectivity for easy access and data storage: Since it is supported by digital wireless technology of WiFi, the wifi scale has a web dashboard that you can use to monitor your improvements while the data are stored in a password-protected website. If you have an iPhone, this can help to increase your data access through free iPhone apps like the WiScale.
3. Instant results without further calibrations: Compared to a typical body scale, weighing in wifi scale can give you immediate results for your body weight, BMI, fat level, and muscle mass without the necessary adjustments or calibration.
4. Multiple users advantage ideal for a family or 8 persons: Besides, with its multiple-user feature, the whole family can enjoy using the wifi scale because it is capable of recognizing individual users up to 8 persons.
5. Easy online sharing of data to healthcare partners like doctors, nutritionists, and fitness coach: You can quickly and conveniently send your health details to your doctor. Also, the accuracy of the measurements is guaranteed using the wifi scale which is helpful to ensure that you are on the right track of your fitness program.
Although the wifi scale includes advanced features, it still has very low power consumption. In fact, it can be powered by merely using four 1.5 volts triple-A batteries. The device can also help you to plan your fitness training by giving you recommendations for your diet plan or if you want to make a sport program suitable for your condition.
With WiFi Scales, you can now monitor the progress of losing your body fats in the body using the digital wireless technology. What a big convenience it can bring to you that the data about your body weight, body mass index, and body fat level can be stored online or even to your iPhone with the aid of WiFi connectivity. For these reasons, the  Wifi Body Scale is the right partner so you can monitor your fitness level and health with great effectiveness.
Head over to Amazon.com to check out some very good Wi-Fi scales for the best deals, including the RENPHO-Bluetooth-Body-Fat-Scale which you can save $30.00 on the price at the moment and buy for just $39.99 with free shipping.