In our Yunmai Premium Smart Scale Review you will find out why this device offers you the best value for money.
We found out that the customers are really impressed of the scale's accuracy, and affordability.
Also, the Yunmai Premium customers love the the user friendly app which is so easy to set up and to use.
The scale comes with so many great features to help you in your health maintenance.
Product Overview: Yunmai Scale Review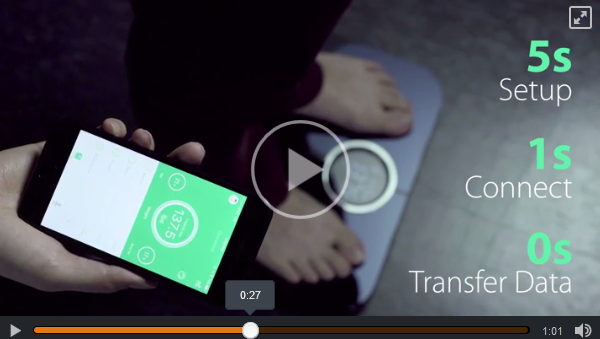 There are so many smart scales on the market, and many come from top brands and may sell upwards $100 and even more. Some from lesser known brands may sell for significantly less.
The Yunmai Premium scale is an attractively designed device that is accurate and durable. It offers all features which you would expect from any premium scale.
There is no need to tap this scale to use like some others. You just step on, and in just few seconds you will get your measurements. These measurements can then be synched to the smartphone via Bluetooth.
The Yunmai app is well-designed that offers you complete guidance to reach you ideal weight goal. The app syncs with Apple Health, Fitbit and Google Fit.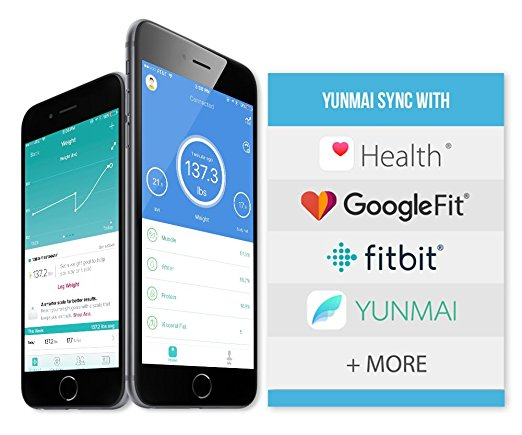 Yunmai app can sync with Apple Health, GoogleFit, Fitbit — See more here…

It's important to maintain ideal body weight to avoid many health issues. Obesity not only impacts your energy levels, but also cardiovascular health and confidence.
Smart scales make your job easier in reaching and maintaining your health goals. As you step on any one of them, and your weight data will quickly find its way to corresponding app on your smart phone or any web dashboard via Wi-Fi or Bluetooth. Using the dashboard or Bluetooth, you can quickly track your progress over time.
The Yunmai truly assists you in tracking your health data. The scale top feature impressively measures 10 different body composition statistics, including body weight, BMR, BMI, bone mass, hydration, body age, and more.
Precise Measurements Scale Feature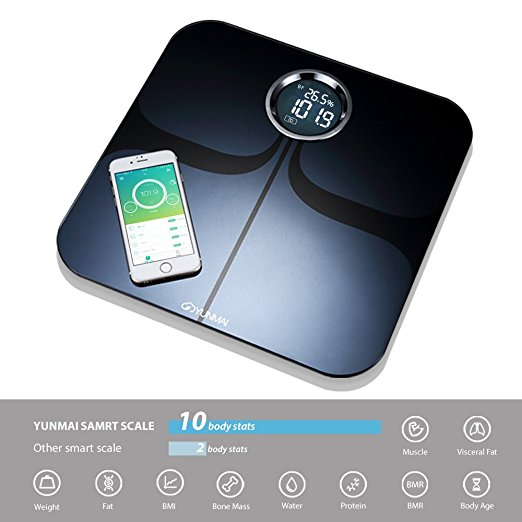 Yunmai 10 Body Stats Composition Comparison — See more pictures here…

The Yunmai scale uses Bio-impedance sensors which precisely measures Body Mass Index, Body Fat, Body Weight, Bone Mass, BMR, Muscle Mass, Hydration Levels, Protein, Body Age, and Visceral Fat.
Other Features:
Weight tracking management for 16 users
Wireless Bluetooth 4.0 connectivity
Vibrant 4.0 inches LCD display
Smart-step technology
ITO advanced conductive coating
Supports iOS and Android
Power: uses 4 AAA batteries (included in the package)
How Yunmai Body Fat Analyzer Works
Before you step on this scale, the app will run you through the entire setup process. This includes answering few questions such as your weight goal, height, sex, etc. You also have the ability to change the units of measurements from pounds to kilograms and vice versa.

When you want to check your weight, just open the smartphone app, and then step on the scale. Bluetooth in the scale connects straight away. There is no Wi-Fi option, so your smartphone needs to be nearby when you're weighing yourself.
The scale display shows just your weight, and for more detailed data, head over the smartphone app.
The app of Yunmai Scale is impressive and shows wealth of data. It may take some getting used to. It allows you to chart your weight results weekly, daily, monthly, and yearly basis. You get composite health score each time you weigh yourself. All these are novel metrics that are not seen in other devices.
Pros:
Good quality-price ratio
Durable, high quality materials
Reliable customer service
Bluetooth connectivity to track your progress
Large display
Cons:
The Yunmai app could be improved in some aspects — fortunately the development team is continuously working on integrating with other applications.
No Wi-Fi connectivity
Conclusion
All in all, Yunmai Premium Smart Scale is a great scale that offers you full value for money and comes with many smart features that makes your weight management task easy. You can get this scale at a BEST PRICE on Amazon.

Yunmai Premium Body Fat Smart Scale – For Healthy Weight Loss Tracking