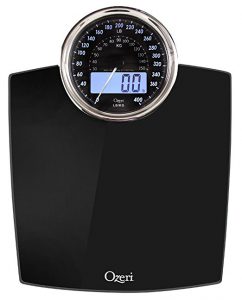 Weight is a sensitive matter, most of us have at one time or the other had a certain weight goal, either to be skinny or to simply gain a little more fat. Regardless of what the goal was, weight issues prick a sensitive nerve in all of us. It is for this reason that public weight scales have become outdated, no one wants to be humiliated in public and hence the rise of bathroom scales.
These help you monitor your weight within your comfort zone, the challenge with most bathroom scales is that they need constant readjustment, do not work under dark lighting and sometimes lie to us because of inconsistency, not with the Ozeri ZB19 Rev Digital Bathroom Scale. Not only has it been made in a way that solves all this challenges, it also has additional features that make it the ideal bathroom scale.
1. The Display
The first striking feature about the Ozeri B19 is the fact that it has a chrome yet elegant look. It is made with a 5.5" mechanical display and an electromagnetic dial LCD. This gives it a classic look with an illuminated LCD blue backlit background for easy to read results in all kinds of light.
2. Weight Technology
It uses 4 high precision sensors to measure weights of up to 400 lbs. or simply 180 Kgs. To reduce the margin of error, it utilizes advanced StepOn technology that only shows your weight once you step on it. No gravity weights and definitely no errors.
3. Power
This bathroom scale uses the battery power of 3AAA batteries which are included on purchase of the scale. The battery life of the scale is longer because the Ozeri ZB19 automatically switches off when it's not in use. In case you are afraid of battery level changes, it features a low battery indicator that will signal the need for battery replacement.
4. Calibration And Ease Of Use.
Calibration of a scale is not an easy task and well, you need not worry about that because the Ozeri B19 is auto adjusted and does not need manual calibration of the scales.
5. Durability
The scale can handle weights of up to 180 Kgs because it is made of temper proof glass. It also has slip-resistant feet stability in case your feet are wet at the time of checking weight.
6. Personal Weight Monitor
In case you are always forgetting to check your weight, the Ozeri B19 has an alarm that reminds you to check your weight at the same time each day.
Reviews And Verdict
It has a rating of 4 stars on Amazon with most customers attesting to the consistency of the readings and the ease of reading design. Well, all factors considered, this is a beautiful scale and is a great recommendation because there is really nothing about it that would scream deal breaker. It offer a mechanical reading scale which may be outdated but is still effective, caution has to be taken when using it in a humid room but all in all, Amazon offers great deals on this great item that is definitely worth the hype. As the manufacturer says, your satisfaction is 100% guaranteed.
Check out the Ozeri ZB19 Rev Digital Bathroom Scale at Amazon.com and pick it up for just $26.63.